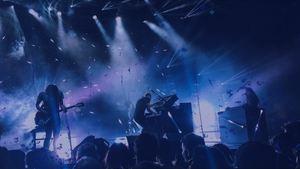 How to promote your music in today's music industry and, how do bands make it big?
Music marketing is the new way forward for bands and artists to create momentum and gain sustainability in an overcrowded industry. How to promote your music is a defining question that should be a fundamental factor in any artists endeavour to stardom.
Every day there are 60,000 songs uploaded by Artists onto Spotify, that's 22 million tracks a year! Over 1 billion hours of YouTube videos are uploaded a day, a massive amount including songs, music videos, gaming videos and so many different genres and categories. So how do you make it in today's technology revolution where the sky is ultimately your limit? But, so is everybody else's…
Let's take a look at how bands can make it and, break through the competition using methods that actually work to promote your music. These methods have worked for years and form the basis of an artists music promotion. The only difference to then and now is, the way in which those methods can be implemented.
2. What makes a band special and distinct?
3. How do bands make it Today?
4. Music marketing mind-set
5. Social presence
6. Fan base is key
7. How do you build a fan base?
8. Music marketing services
1. How bands made it big
Now of course success is quantified individually and doing the rounds of the local area week in and week out and the odd wedding and party may be exactly what you set out to do. However, we are talking about making it big being in the top 100 charts and being played regularly on Radio 1 next to big bands. That big break through, where does it come from? How do you get there?
Well, if you look at some of the bands that have really made it in the last 20 years like Oasis, Arctic Monkeys, The Killers, Kasabian and many more. They all have one thing in common; They all have a unique sound that joined the music scene at the right time and either got picked up by record companies or arrived into the feeding frenzy of social media, jumping onto the band wagon of its exclusive variety of ways to market. Arctic Monkeys are a great example of the latter, their break through came after their first single 'I bet you look good on the dance floor' was produced by Jim Abbiss and released through Domino Recording Company. The music video was put out onto YouTube. It went viral and it was an explosion of charisma, rawness and excitement. It was exposed at a critical time of Indie rock where new bands were coming and going at a rate of knots!
So many bands came onto the scene and made it big. At the same time there were bands that survived their first single then were left out to dry by the indie folk movement of the Noughties. The Twang are a fine example with their top ten track 'Either way' or The Bravery with 'An honest mistake'. After breaking into the scene these bands never took off. Both bands were hyped to be the next big thing but were never able to sustain favour over the brutal competition in the Hothouse of the Noughties.
Check our "Indie til I Die" playlist 👉📻
To make it in this defining time of musical magic a band had to be on point with their music, character and uniqueness. Bands like The Courteeners echoed the upheaval of the Arctic Monkeys spanning 2 years across the Internet and through word of mouth gained traction. Eventually a record deal with Polydor records came to fruition with their first album St. Jude. Like the Arctic Monkeys the band were exciting, new and exactly what the crowd were waiting for with influences shining through from the likes of Oasis and The Libertines who had already took the UK by storm early Noughties. These bands were great live music bands.
This is part of the character and uniqueness; creating a USP (unique selling point) that adds detrimental value to the overall persona of a band. Think of bands like Oasis and their presence on stage or looking further back to the Rolling Stones and their sexiness or the intense energy of Bruce Springsteen in his live performances. When you look back at the bands of the Noughties it echoes similar structure to today's efforts but with new innovative market accelerators to break through into the industry as an artist.
It is these new avenues that today's bands and artists will find fame and longevity through loyalty and consistency.
2. What makes a band special and distinct?
It was all about the Indie rock sound after a generation of BritPop with some absolute big band's in the UK like Blur, Pulp and of course Oasis. The Noughties generated great bands like The Killers, Bloc Party, Franz Ferdinand and The Libertines to name a few. Just check out the best debut albums of the Noughties to see just how many big bands came from the Noughties. These bands all had character and unique sounds that were iconic but, at the same time followed the trend of the music scene at the time.
The earlier bands in the Noughties like The Libertines saw it coming naturally and niched in on it. A distinct band. Two musicians with a passion for music and song writing that positioned themselves within the poetic league of song writing geniuses. In a band that portrayed the true rock n roll lifestyle that many dreamed of (maybe not the addictions that ensued) nevertheless, they made it big and were/still are a great band!
3. How do bands make it Today?
Today with Google Music, YouTube, Spotify, Apple music the list goes on and on…. It is both the easiest and hardest time to break through as an artist. You can record a song pretty easily right now and have it released with ease. There are so many independent record labels seeking new talent or you can personally learn how to record and master tracks and upload yourself if you are that way inclined. All for a very acceptable price whatever your budget. If you want to be one of the many self produced artists that do it all and trust me there are many! Take a look at the 10 best online music production courses and schools.
Whilst the product to market maybe quite straight forward and accessible, at the same time this causes an overcrowded market and a misbalance for bands and artists. What bands actually make it and, what bands are left in the ether fighting to get over >1000 listeners/followers is the contrast in this new age. This is where it becomes difficult and somewhat more complex than the pre social media and streaming days. Go back 20 years and it was about the physical struggle; getting out and playing live shows, touring as many places as possible and a big emphasis on word of mouth. The bands that took this on-board and threw their focus on live gigs gained traction and fans started to follow and multiply.
Nowadays, as an artist you need to include this as well as having a robust social media strategy to really make a dent in the industry. This is how bands will break through and, the ones with the most innovative and creative utilisation of the platforms available will be rewarded. This and a good eye for current and future trends. Social trends not necessarily the "in" music genres. Trends like Instagram post creativity and short video production through social platforms. However,  Genres 's are becoming more creative and hybrid genre's and cross-genre's are seen more and this will only continue in the future.
4. Music marketing mind-set
You have to incorporate a music marketing mindset into your vision, it is what sets you apart from the rest. Look for ways to project your music within the trending media platforms. Not only regular posting but building a brand, character and uniqueness that people will remember you. For example, Lewis Capaldi is infamous for his regular Instagram posts of him performing funny snippets and genuine posts with witty comments. The public love this.
However, of course the most fundamental element is the quality of your music and that's where your talent should shine through. This with a mind set focussed on building your brand will give you the best chance of success.
Try these marketing strategies below:
• Write a music press release
• Share on social media, all platforms
• Approach bloggers to feature you or your band
• Approach playlist creators and get added to them
• Networking (let everyone and everything know who you are and hear your sound) 
These are all great music marketing techniques that will help build and grow your brand.
Bands from the 90's, 80's and even previous decades all did the same just utilising what they had at the time. The infamous Sex Pistols record deal with A & M records, staging a contract signing event for the media in front of Buckingham palace. Or Keith Moon dressing up as a Nazi officer for a record company shoot, and going out following it in the local town still wearing the costume! These were publicity stunts that gained traction and memorable moments that, at the time enticed you to know more about these characters and the music they made.
5. Social presence
Today there are many new and exclusive ways that can be taken advantage of to gain social presence. Take a look at The Black Keys new album just released 'Delta Kream'. They consistently post short snippets of their music videos from their new album on social media platforms. This is effective and feeds the listener little bite size flickers of what the whole video is about. The Black Keys of course are in no rush to find funds and raise a budget however, it doesn't take much money to create a worthy music video.
A simple answer to making a music video is if you have a contact that is handy with a camera or, freelance sites offer great options at low cost; such as 'Fivver' and 'Upwork'. Social media is a must for today's new and upcoming artists but it is also true for artists that have already made it like The Black Keys. All people, businesses and artists require a level of social presence to grow and build their brand. It is clear that bands and artists will continue to follow the social media trend to ensure their loyalty to their fans.
If a band is going to break through and make it, then they will for sure, have a social presence that is consistent and loyal.
 Bobby Owsinski is an expert in the field of all things music. He has over 20 books in the field including music recording, social media, audio engineering and more. He has worked with an abundance of high profile artists including Jimi Hendrix, The Who, The Raymones, Iron Maiden and Chicago. His book "Social Media Promotion for Muscians" is a fantastic addition to anyone wanting to understand how they can perform and grow their social media as a musician. Click the book to get your hard copy or kindle version now.      
6. Fanbase is key
Having established how to start the road to making it as an artist, how do you break through and seek a respectable following and sell out your gigs and grab that festival headliner?
Whether you're a music artist, movie star or a new restaurant chain, engaging and building your fanbase is key. Then retaining them is even more important. Your fanbase are the most valuable asset you have as an artist; without them you are merely a project of your own desire. Get your fan base, sustain, and grow then gigs will start becoming bigger and bigger which in turn maintains the growth of the band/artist. Stay loyal to your fans and don't forget your die-hard fans that were with you from the start. They will always be with you so long as you stay loyal and grounded.
7. How do you build and retain a fanbase?
Find your fans on social media, get those first ones sucked in and utilise these, by keeping them happy and being loyal. Build your image and post regularly, use email marketing to gain traction and retention. Be exclusive and show off your brand and uniqueness. Combine social channels and upload on them all. Don't just post your tracks post some genuine life videos or rehearsals or a Insta story of the band going Out or doing something on a personal level. Like going to a coffee shop and buying your usual, fans like to know who you are. Look for good examples to follow and find your own niche. 
Be your own PR powerhouse!
"It takes 20 years to build a reputation and five minutes to ruin it. If you think about that, you'll do things differently."
This is a great phrase of wisdom by one of the richest men in the world Warren Buffet. He builds his wealth off of other businesse's success his decisions and reputation are followed by millions. People trust him and invest in him. His reputation is key to his wealth. He's one of the richest people in the world for a reason.
Building a fan base is an Important aspect of music marketing and promoting your band.
8. Music Marketing Services
Being a musician that's trying to make it big and break through is tough. Those constant live gigs, song writing late nights and expensive equipment! But most of all, your creative mind working hard and producing the perfect track time and time again. This is the very reason music marketing and promoting your music is crucial. To give your music the best possible chance of breaking out and being heard. By utilising a marketing strategy your music will be heard by the appropriate customer; targeted listeners and people who are looking for new music just like yours and artists just like you.
There are some great music marketing companies and websites that can bolster your strategy and, supply you with bounds of know how information. Reach out and do some homework. 
Also check out:
Disciple media 'How to build a loyal fanbase from scratch'
Neil Patel 'A beginners guide to successful email marketing'
Bandzoogle '7 top marketing strategies for muscians'
---
1 comment