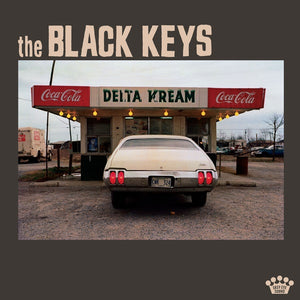 "Delta Kream" The Black Keys
The authenticity of Dan Auerbach's guitar exhume a blues story that throws you into a Mississippi juke joint.
It's no surprise as this is what is intended; the two
boys from Akron, Ohio deliver a tasteful new album that pulls from their fundamental influences
such as R.L Burnside, Jr Kimbrough, Ranie Burnette and others.

Delta Kream is the new album from Pat Carney (drummer) and Dan Auerbach (singer/guitarist) 'The
Black Keys' that comes after the late 'Lets Rock' album that certainly rocked! However, some might
say that it had a less traditional Black Keys sound and slid between more pop and blues. There
is no mistake of the bluesy influence that 'Delta Kream' punches out.

Crawling Kingsnake is the bands preview to this provoking album, the track is a cover recorded by John
Lee Hooker and Dan Auerbach's rendition referenced from Jr Kimbrough's. The album continues to pull from the bands early influences throughout. The sound is quenching of 'old time Mississippi blues' and strikes a possessive listen with detail, structure and a raw echo that amplifies as if you were sat in a bustling "barrelhouse".

What is interesting about this album is the music video presence and the output on social
media. Edited versions of the tracks so far have been exciting and really introduce you to the
rawness of the tracks. 'Stay all night' sees shots introducing a baron road passing under tall
telegraph poles and old freight trains that blend into the warm scene of the setting sun. The oranges
and terracotta shades really feel like you are about to watch an old western film. A timeless pleasure with magnificent landscaping! These music videos are beautifully composed and spur a feeling of intense matronomy with the juke joint Mississippi blues. The consistency of social media exposure from the "Black Keys" is reaching far and wide and delivery is special. Their "Easy eye sound" session is another beautifully produced video that has a vintage feel to it. You can almost smell those vintage looking guitars and amps that surround the band. 
Take a look at "Going Down South" live at Easy eye sound.
The Black Keys have implemented a steady decade of great sounding albums and this is no exception. It is clear that the boys from Akron, Ohio are at their purest playing these tracks. It's almost as though you can feel the connection between the two, a synchronisation of the good old days practicing in Carney's Dad's basement.
The new album is a true piece of artistry playing respect to early blues legends. Only The Black Keys could have made something so fitting. A great album that will be played for years to come and cement itself as one of blues great renditioned records of the 21st century.
Track listing for Delta Kream
Crawling Kingsnake (John Lee Hooker / Bernard Besman)

Louise (Fred McDowell)

Poor Boy a Long Way From Home (Robert Lee Burnside)

Stay All Night (David Kimbrough, Jr.)

Going Down South (Robert Lee Burnside)

Coal Black Mattie (Ranie Burnette)

Do the Romp (David Kimbrough, Jr.)

Sad Days, Lonely Nights (David Kimbrough, Jr.)

Walk with Me (David Kimbrough, Jr.)

Mellow Peaches (Joseph Lee Williams)

Come on and Go with Me (David Kimbrough, Jr.)
---