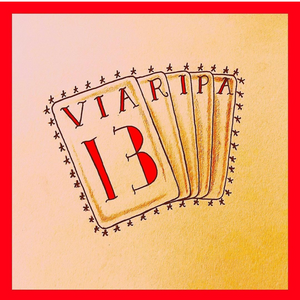 Via Ripa
Tight riffs, scratchy overtones and aspirations of working with Billie Eillish
'Via Ripa' The surfer rock band from New Jersey have been at work creating some  Grunge-Indie-Surfer tunes that are energetic, dynamic and genre twisting. Only 3 weeks after their last release 'Field Trip'  they have just released a new single '13'. 
Band members: Guitarist/Vocals 'Mike Pinckney', Guitarist/Vox 'Mike Smentkowski', Bassist 'Sean Cuddy' and Drummer 'Nick Marinelli' 
The band started out in 2019 and have since polished off some tracks that vibe out grungy, fused pop type melodies with punchy distorted guitars and Jazzy drums.
'Via Ripa' are refreshing to hear; a band that opens up the feelers to a mix of genre's, fleeting on the bridge of creative niching. The band state that "working with Billie Eilish would be a great time" which is not surprising when you listen to 'Via Ripa's' tracks. They do seem to flirt with innovative essence towards genre fluidity which, is also fitting for the pop star who,  has before made reference to "genre rigidity as outdated". Billie Eillish and Via Ripa would be an interesting collaboration!
The band's chemistry is a key element of their creative process and is a steering factor in their endeavours to engender. The New Jersey foursome ricochet off each other to progress conceptions collectively and lay out incipient tracks.
Mike's vocals are somewhere inbetween Luke Pritchard (The Kooks) and (Kris Leonard from the late 'Viola Beach'). What you get is a vigorous sound that is distinct and fresh and, flickers between tight riffs and scratchy overtones.Their new single '13' is a punchy track that gives off a summertime feeling with distorted guitars and sweet intervals of riffs and breaks that tempt you up and down. The riffs, fills and drums in the intro are quite Jazzy and with 'Mike's' vocals laid over the top the sound of the track is kind of phasic. As the song plays it gradually gets more rocky with some nice lead guitar and those Jazzy drums riding on throughout.   
It will be interesting to hear more of their stuff over the next year or so and, we can look forward to it too! The band have laid down 12 or so tracks ready to record. So watch out for 'Via Ripa' their here to stay..
LISTEN TO '13' NOW 👉📻
We got in touch with Via Ripa and asked them some questions about the band and their new track.
Enjoy the interview questions below:
Could you tell us a little about how the band formed and where the name "Via Ripa" derived from?
"Via Ripa is a street by the ocean that our singer and guitarist Mike would always find himself surfing at. Via Ripa first started as a project between Mike and our friends Sam and Kyle. After about four years of a hiatus for that project, Via Ripa was resurrected with Mike and the rest of us."
What are the bands influences and does your musuc reflect these?
"The Beatles, Jimi Hendrix, Alterbridge, Metallica, Pink Floyd, Ariel Posen, Skeggs, and honestly too many more to list. We believe that our songwriting is indicative of what we're listening to at the time, so I guess it really depends on whatever we're streaming at the time of writing."
Where was the last gig you played? Where are you playing next and are you planning on coming to the UK?
"The last gig we played was at Mojofest, a DIY festival hosted in a backyard. Our next gig is up in the air as of right now but hopefully sooner rather than later! As for playing a show in the UK, we just gotta grab some cash for plane tickets, a venue to host us and then we're golden."
What was the best gig you have ever played and why?
"The best gig we've played was also our last, at Mojofest. That was our first real show back after Covid, and it was such a great time to finally be around live music and share that experience with everyone who was there. Truly a very special moment."
Who would you love to collaborate with in the future if the opportunity arises and why?
"Completely unrealistic but working with Billie Elish would probably be a great time. She's a very original artist and tends to be very genre fluid, so I think we'd be able to get some really cool ideas going."
What bands are you guys listening to at the moment? Who's hot?
"Spici Water from Perth, Australia Love-Seat Pete from New Jersey, USA Peach Pit from Vancouver, Canada"
Who writes the songs in the band or is it a collective?
"Mike and Matt (our other guitarist and vocalist) are pretty much the guys when it comes to writing the progressions and structure for songs. Mike and Sean (bassist) tend to split responsibilities for lyrics, and it's up to everyone in the band to write their own parts for every song. One of the best things about us is our chemistry with one another, so it's always fun to see how our ideas bounce off one another to continuously shape and mold our sound."
When are we likely to see more tracks released? Are you working on new material? 
"If this is being read after August 13, 2021, we just dropped a new song called 13! Go stream it! If this is being read before August 13, 2021, we're putting out a new song called 13! Stream it when it drops! We also have about 12 new songs that we wrote over the last year, and we're just dying to record them."
Where do you want to be 5 years from now and what do you want to achieve?
"Five years from now we'd like to be playing shows and touring regularly as well as consistently releasing music and merch. If we could have a few tours under our belt and maybe an album or three in that five years, that would be pretty cool."
---