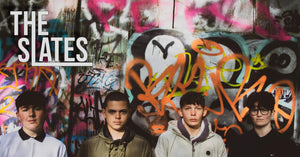 The Slates
The Slates: The fourpiece from Mirfield sliding into the scene with grit biting raucousness.
Band members: Jude Wales, Louis Barnes, Zak Oldroyd and Joe Briggs.
The Slates pose a threatening stance in Indie music and are throwing themselves head on into the whirlpool frenzy of new and upcoming Indie artists. The band are from a small town near Leeds called Mirfield and have been playing together for nearly 3 years. Since, they have released two singles 'Try That' and 'Fumes and Tunes' both raw, fresh and catchy. The Slates give you loud riff driven guitars, smashing drums and raucous vocals.
The Slates instantly grab your attention with their aggressive blazon persona. Which is not surprising as their influences stream from artists like Arctic Monkeys, Oasis, Stone Roses and Red-Hot Chilli Peppers. The Slates have an optimistic outlook and demeanour; four young lads chasing the dream and already hungry to position themselves in a forceful manner within the realms of those of their influences. 'Fumes and Tunes' is their latest release written by Louis and is about one of his family members passing away and so the band "wanted to make it special." 
It sparks interest immediately with its lazy chord structure and melodic lead guitar over the top; the intro has an Oasis feel about it. The vocals grab your attention with accent sprawling menace and reminisce of classic Indie type vocals. A near suit to that of 'Catfish', 'The Cribs', The Vaccines' and 'Arctic Monkeys'.They all come to mind. The lads from Mirfield should be attributed for their unique sound that pulls from their influences but is distinct and fresh. The Yorkshire accented vocals seat separately and deter from the norm whilst, at the same time reignite a familiarity of classic Indie-Rock attitudinal expression.
*All images taken from The Slates Instagram profile
A brave band that are bursting onto the scene with attitude, charisma and banging tunes, The Slates are a true British band on the verge of permeating towards prominence.
LISTEN NOW TO 'FUMES AND TUNES'👉📻
We got in touch with The Slates and asked them some questions.
Check out the interview below:
How did you choose the band's name and what inspired it?
"Honestly, we just thought it sounded okay so just went with it!"
What are the bands influences and does your music reflect this you think?
"Our main influences are Stone Roses, Red Hot Chilli Peppers, The Smiths and Catfish and the Bottlemen"
How long have you all been playing instruments and song writing, who writes the songs or is it a mix between you all?
"We've been a band for roughly 2 and a half years and it's Joe, Louis and Jude who write the tunes"
Your latest release 'Fumes and Tunes' is a great track! What is it about and how long did it take to write and create?
"Louis wrote the lyrics and chords about a year ago and we've just wanted to make it special as the lyrics are about the passing of one of Louis family members"
What's the best gig you have ever played and why?
"Parish in Huddersfield because the venue was class!"
What other artists do you like right now? 
"Afflecks Palace, Stone Roses, Foals"
What artist/band would you love to collaborate with in the future and why?
"Would love to work with Liam Gallagher as we think he's experienced quite a lot in his music career"
Where do you want to be in 5 years from now? 
"Headlining Glastonbury"
Arctic Monkeys or The Kooks?
If you had to add a new band member which of these would it be?
What gig are you looking forward to and when is it?
"Might have to keep that a secret for now… announcing soon on our socials"
LISTEN TO MORE FROM THE SLATES👉📻
Learn more about The Slates:
---