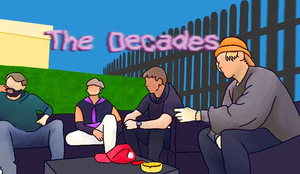 The Decades
The four-piece band from Wicklow demonstrate a new and exciting stream of Indie rock sound.
Band Members: David Mulvey Drummer, Myles Keogh Bassist, Rhys Doyle Lead Guitar, Sean Fox Rhythm Guitar and Vocals.
The Decades are an exciting new band from Ireland. Formed in 2020, the band is made up of musicians who share a passion for creating music. The band was made after David and Sean studied music in college. After the two became friends, Sean suggested adding David's long-time bandmates Rhys and Myles to the mix. The decision was quickly validated, and the group got to work in the studio. The band's name 'The Decades' came about as a number of their favourite bands all put out their best work in a period of about ten years like The Beatles and Led Zeppelin.
The Decades influences pull from traditional and modern artists such as Led Zepplin, The Beatles, Sam Fender and The Killers to name a few. These influences certainly reflect in their musical make-up. Their recent release, 'Fools Gold' showcases their incredible talent as musicians, with rousing results, delivering a captivating sound that can be told in many different ways. The sound is rich with familiar echoes from Indie bands from the Noughties. However, 'The Decades' have definitely created a sound that sets them apart and introduces a nice balance of instrumentalism in their latest track 'Fools Gold'. The track builds steadily towards its climax, with ardent drumming from David Mulvey supporting the song's emotional undercurrents. Myles bass line drives the song forward whilst Rhys and Sean swiftly lay down layers of rhythm and lead guitar. Sean's vocals over the top provide a powerful trajectory and slide on throughout, exacting a harmonic foundation.
The blending of all four members' musical backgrounds creates a sound that incorporates both classic rock elements and an indie feel, which can be heard across their releases to date. The band fully utilises its strengths on 'Fool's Gold and with the band busy writing an abundance of new material and concentrating on studio time, The Decades are bound for great things!
We got in touch with The Decades and asked them some questions about their band, their influences, what's next and more.
Check out the interview below:
LISTEN TO 'FOOLS GOLD' NOW 👉📻
Could you tell us a little about how the band formed and where the name "The Decades" derived from?
"The band was formed when David and Sean became good friends after they met in music college. David suggested bringing in Rhys and Myles who he had been playing with for many years and the group quickly began working on new songs together and got into the studio to record them. The band's name 'The Decades' came about as a number of our favourite bands all put out their best work in a period of about ten years like The Beatles and Led Zeppelin. It became a bit of a running joke between us that all we'd need is about a decade of good tunes and then we'll pack it in."
What are the bands influences and does your music reflect these?
"We're massively influenced by classic rock bands like Led Zeppelin but also by more contemporary artists like Sam Fender, The Killers and the Foo Fighters. Certain aspects of each of these artists and many others that we all grew up listening to are reflected in our sound, but we also like to think that we bring something that is uniquely ours to the music."
Where was the last gig you played? Where are you playing next?
"After we formed, we managed to play one small gig in our hometown before Covid restrictions began. This has hugely limited what we have been able to do but we can't wait to get out there playing our songs now that things are starting to open back up here."
What was the best gig you have ever played and why?
"There was something very special about our first gig together as a band. The atmosphere in the room was incredible and the response that we received for songs that we had written ourselves was overwhelming."
What's next for the band? Are you working on new material?
"We've spent the last few months writing more and more material and we're currently working in the studio to record our next release. We've also been busy organising live gigs which we can hopefully announce more about soon."
What is 'Fools Gold' about? Who writes the lyrics and music in the band? What's the bands creative process like?
"Fool's gold is centred around this lifestyle that we have observed so much in our generation of constant partying and a cycle of one-night stands and relationships that go nowhere. It seems to come out of a place of loneliness and a desperate need for a connection to others and finding meaning and value in the wrong places. In the band, we usually begin working on an idea for a song that one member brings forward, and from there we will just sort of jam together and each provide our own creative input."
Who would you like to collaborate with if the opportunity ever came by and why?
"If an opportunity ever came up, we would absolutely love the chance to work with Sam Fender. Due to the similarity between our sound and our approach to music, we would just love to see what could come out of working together. He also just seems like a sound lad, doesn't he?"
What are you guys listening to right now? 
"Sam fender, The Academic, Inhaler, The Zen Arcade, Flyte, Nothing But Thieves"
Where do you see the band in 5 years? Where do you want to be? 

"By then we would love to have released a couple of albums and also be in the position to play big stages and get our music out there to as many people as possible"
Have you watched any of the festivals this summer? Who did you like and is there a festival you would love to play at?
"We saw so many amazing acts play great sets at Reading and Leeds festival recently. It was great seeing almost all of our favourite bands getting to play there and thinking that could be us one day."
Which of these legends would you love to have played with in their prime?
Jimi Hendrix 
Curt Cobain
Muddy Waters
Johnny cash
Bob Dylan
Morrisey
*All photos are provided by The Decades
LISTEN TO THE DECADES NOW 👉📻
LEARN MORE ABOUT THE DECADES
---