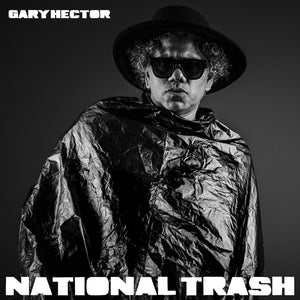 Gary Hector
Gary Hector: "I just went to the shop and bought a copy book and said OK, let's go. I always write songs in bunches"
The Trinidad & Tobago's singer-song writer's debut release 'National Trash' offers textured, melodious compositions inspired by Bob Dylan, Johnny Cash and other country folk influences.
  09 August 2021
Courtesy and credit to Abigail Hadeed 
The 13-track album is testament to deep American country blues and features pedal steel guitarist John Heinrich of Nashville and Niki Nelson also residing in Nashville delivering harmonies throughout.
Gary Hectors 'National Trash' pulls from various country, folk and blues with a classic rock vibe thrown in aswell. There is no mistake that Gary's influences are at the forefront of his delivery. The dark and dusty tones of country blues seep through the sound of Gary Hector;  deep, gravelly lyric twining verses with, his distinct nasal Bob Dylan-esque vocals flowing ubiquitously from the very first number on the record.
The first track on the album 'Today I ride alone' is testament to Gary's lone riding debut after being the front man in several bands previously 'Oddfellows Local' and 'JointPop'. The track is gentle with light pedal steel guitar licks that weep with harmonious pace. Gary's distinctive Dylan-esque  vocals weave in and out of the rhythmic pattern of the song.
Gary Hectors debut album 'National Trash' is reminiscent of the legends in American country blues, folk and rock. Pulling from an array of influences from iconic artists such as The Stones, Beatles, The Sex Pistols, Dylan and Cash. 
Enjoy the interview with Gary Hector below and follow him on Instagram for upcoming gigs and events @garyhectormusic 
Listen to 'National Trash' now 👉💽
 Interview:
Can you tell us a little about yourself and how you started in music?
"Former singer, songwriter, guitar player and leader of bands ODDFELLOWS LOCAL and JOINTPOP. My start in music seems to be all a bit accidental, or maybe that's exactly how it was meant to be. I was always a keen listener to radio and buying records like any other young boy growing up. I was never exposed to any musical instruments until one day I noticed a couple of my friends with an acoustic guitar. So, while hanging out with them I inevitably asked to touch it and that was all she wrote, instantly hooked. I had to work hard at it as I was by no means "a natural" and that's remains the situation today."
What influences do you pull from? Who inspired you to make music?
"Think my surroundings, my country, my friends, my family, my mind, would be the pull from zones. Being with friends in a band and making a collective noise was the biggest turn on. Then I wrote my first two songs and that became another world. Part blessing Part Curse. Songwriters were the inspiration for me to write songs…they still are."
What is your creative process like? 
"Have you ever been to Trinidad and Tobago? Hahaha…it's a very "cheap" creative process. Thing is…I don't know what my creative process is like. And this is not me being "cool" And more importantly . I DON'T EVER want to know."
What artist would you love to collaborate with and why?
"Bob Dylan. Cause he wrote The Book."
When was your last gig and where is your next?
"I've never played a gig in my present solo career, and I have no idea when I will ever play one."
What was the best gig you have ever played and why?
"Again, I would have to mention gigs in my past band life, so maybe that would be The Belladrum Festival in Scotland, 2016. The band was just up for it and was really tour tight and in top form."
Courtesy and credit to Abigail Hadeed 
The second track on the album is an uplifting track 'Song and Dance Man' but remaining true to Gary's vocal style (that Dylanologists will appreciate) it raspingly rallies up and down in tonal fortitude casing the lyrics seamlessly. This is Gary's approach throughout,  showcasing his vocal stance and experienced song writing abilities that fall suit to legendary influences Dylan, Cash, Knopfler and alike.
Your latest release album "National Trash" is a great record, how long did it take you to create, and how has the journey been?
"Thank you. This was also a very strange accidental journey. As I've always been in, and led bands, but that ended in September 2019. I had absolutely no plans to do anything or write songs and record. But on my birthday in March 2020 the first covid case was announced in Trinidad and Tobago and the fact that it's a global pandemic. I just went to the shop and bought a copy book and said OK, let's go. I always write songs in bunches. Only when I'm ready to write an album. So sometimes I go two or three years without writing songs. So, The NATIONAL TRASH album was no different. In fact, only recently, I was counting the ACTUAL hours it took to write the songs and record my parts for the album, and the total came up to like 32 WORKING hours. Less than two days. But the whole process from writing the first song, to having the finished album in hand took one full year. That's due to a few factors. The album was financed by a Crowdfunding campaign for which I'm eternally grateful to all the donors. And, to the other members of the team like producer and mix engineer Sean Bartholomew in Kansas, studio tracking and mastering by Martin Raymond, Studio tracking and pedal steel guitar by John Heinrich of Nashville and Nikki Nelson for female vocals, also of Nashville. Photographer Abigail Hadeed, Art Designer Nicholas Huggins, Music Video Directors Walt Lovelace, and Stefan Jones. Putting all the details together and connecting dots took some time."
What artists/bands do you like right now and why?
"For this album I went deeply into some country and Americana works. Hank Williams, Gram Parsons, Emmylou Harris, Loretta Lynn, Johnny Cash, Waylon Jennings, and lots of the top folks. And a lot of Dylan of course. But I also came across, and really got into some of the present crop of singer songwriters like Sierra Ferrell, Pokey LaFarge , Jamie Wyatt, Nicole Atkins, Ryan Bingham, Raelynn Nelson, Amy Nelson, Shooter Jennings, Lillie Mae, and a bunch of others. Some brilliant stuff. Yea and just to marry that to my past influences like The Stones and The Beatles and Bob Marley and David Rudder and The Mighty Sparrow and The Clash and The Sex Pistols. All that IS the NATIONAL TRASH ."
What is your favourite song to perform?
"I will answer this in the perspective of a future gig as I've never played any of the songs on my debut solo album live. So maybe I'm LOOKING FORWARD to playing songs like, Today I Ride Alone, Song and Dance Man, Baby, This One's For You , National Trash , Searching for Jimmy Crime, Nashville Dreaming. The full album really."
I decided to ask a rhetorical question as the interview had led me to the conclusion that Gary was an all out Dylan fan and the obvious answer would be that of the lyrical genius himself. This wasn't the case Gary's def defying character had played me all along… Of course, Bob Marley, the Caribbean king would be his first-choice collaboration of the list of legends in question. Home grown roots will always prove a vital ingredient of the quirky Dylan-esque new guy on the block. Gary Hector.
If you could have played with one of these legends in their prime, who would it be?
Bob Dylan
John Lennon
George Harrison
 Jimi Hendrix
Elvis Presley
Bob Marley 
'National Trash' is a  testament to not only the legends of Americana country folk but, to Caribbean culture and its roots. Gary Hector should be proud of achieving an album with prominent delivery and influential exposure.
LISTEN TO "NATIONAL TRASH" NOW 👉📻
Track Listing "National Trash" 
1 Today I Ride Alone
2 Song and Dance Man
3  21
4 Former Gang Leader
5 The Streets of San Fernando
6 National Trash
7 Baby, This One's For You
8 Searching for Jimmy Crime
9 Nashville Dreaming
10 Mercy Me
11 You only Got One
12 Waste of Time
13 NOT ONE FUCK
Find Out More About Gary Hector On:
---
1 comment