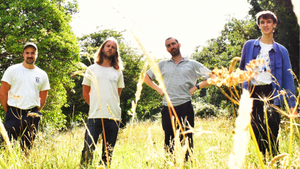 Langkamer

There is a trickling Folklore vibe that almost anchors the record throughout which results in a quirky blues, country type sound that Langkamer have cemented faultlessly.
This is Langkamer's first major release since their 2019 EP, "Getting the Band Back Together". The new album, West Country, includes the singles 'The Return of Little Big Man', 'The Earthquake' and 'Up Shit Creek', blending thoughtful lyricality with relaxed guitar riffs.
There are moments of honesty, sincerity, and real emotion as well, with singles "Humdinger" and "The Ugliest Man in Bristol" managing to balance the furious energy with witty undertones. In addition to the album's sincerity there are elegies to the West Country and the region's people that suit nicely with the aura of the record.
 
The band have just released their new single 'Teeth' that follows a similar vibe to West Country. It's a true country barn banger that blends alt-country's bounce and shirker rock deliverance with an alluring refrain.
Listen now to 'West Country' and 'Teeth' 👉🎧
We got in touch with Langkamer:
The lads from Bristol were very receptive to the questions posed and seem to be on a high after releasing their debut album 'West Country'. Some might say that band names are there to be controversial, mysterious or blatant.... This time round the four-piece refrain from such an enigma (echo of sarcasm). 'Langkamer' is a band name that will certainly be researched by fans and critics alike.... I will say that it adds to the folklore vibe that the band ooze. Maybe the characteristics of such a name can be called upon and divulged further to open and understand its destiny... Expression number: 1, Heart desire number: 7 and Personality number 3... 'LANGKAMER'.
Check out what they had to say:
Hey, could you tell us a little about the band, who you are and how you started?
"We're four indie rockers from Bristol, England. We've got love in our hearts and we want to share it with the world via the time-honoured medium of rock and roll"
Where does the name Langkamer derive from and who came up with it?
"🤫"
What are the bands influences?
"We love roots rock, country and 90s indie. A bunch of folk and punk too. Creedence. Bill Callahan. Sebadoh. Songs, Ohia. Dolly Parton. Built to Spill. Big Thief, Willie Nelson, The Ocean's 11 franchise, The Simpsons and Hummus".
Your new record 'West Country' we love! How long did it take you to create and who writes the lyrics?
"With the exception of The Earthquake and Up Shit Creek. It was actually all done with a fairly speedy turnaround. I (Josh) wrote the lyrics during the first lock down and then we were allowed to be in a room together again the songs got fleshed out so fast. It was all a bit of a whirlwind. Before we knew we made a blood pact with Will Carkeet and we had an album on our hands".
What is your creative process like?
"It's like a mule with a spinning wheel."
Where are you all from? Did you all grow up around music?
"Dan and I are from the West Country, whilst Ed and Tom are from further north. We won't specify quite how far north. Tom's grandfather was actually a touring musician so i know that he grew up at least somewhat aware of that world. Clarinets a big feature in that household. Other than that our parents are doctors and florists, so we grew up around flowers and the NHS".
What music and Artists are you listening to right now?
"Right now we're on tour and listening to the motley collection of CDs that kick around in the passenger foot-well of the car. Meatloaf. The Darkness. Beyonce".
Who would you like to collaborate with in the future and why?
"Bill Callahan. I'd like to write a song without lyrics then send it to Bill and get him to tell a story over the top of it."
Where do you want to be in 5 years from now?
"Performing a residency at a Las Vegas casino. Preferably all with high-profile drug addictions and problems with the law. "
Do you guys have particular tastes in musical equipment in terms of brands? What instruments do you all play and use?
"Those other guys do. Guitars. Bass guitars. Effects pedals. They talk about it a lot. I hear them say things like 'Fender' and 'Rickenbacker' and 'Big Muff' but if we're being honest i don't have a clue what they're on about. I just like hitting things that make nice noises. If i hit and it makes a nice noise then it's good enough for me".
Whats your favourite tune on the new record and why?
"You're not supposed to pick favourites, but personally I've got a real soft spot for Mountain Lion because it's the first song we wrote together the four of us. I remember Ed busting out the slide part from the end and it blowing my tiny mind. I knew we were onto something".
 WEST COUNTRY TRACK LISTING
| | |
| --- | --- |
| A1 | The Return of Little Big Man |
| A2 | Humdinger |
| A3 | Sea Mills |
| A4 | The Earthquake |
| A5 | Mountain Lion |
| A6 | Polly You Should See Me Now |
| B1 | Wine of Wild Orchards |
| B2 | Marathon |
| B3 | Van Pelt |
| B4 | The Ugliest Man In Bristol |
| B5 | Acker Blik |
| B6 | Up Shit Creek |
LISTEN TO MORE FROM LANGKAMER👉📻 
Find out more about Langkamer, their Tour dates and more:
 All photos are taken from Langkamers Social media pages and are accredited to and approved by Langkamer
---