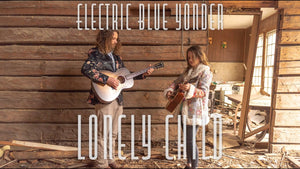 Electric Blue Yonder
ELECTRIC BLUE YONDER on 'Lonely Child' "The song dwells in nostalgic tones yearning for what used to be with the realization that things will never be the way they were"
The Alabama duo that lure you in with their atmospheric Folk-Rock Psychedelia. The bands latest release 'Lonely Child' yeilds a breadth of  nostalgia and innovative genre bending magnificence.
All picture credits go to Irby Pace @irbypace
The married couple (Beth & Johnny Veres) began performing back in 2015 under the name of 'Blue Yonder' but after many collaborations and Jonny's study of older finger style playing and, the collectiveness of talented musicians within their communal space the band developed into 'Electric Blue Yonder'. You can hear straight away where the electric fits in. The band attain a certain space-like phenomena that is synchronised with a contemporary feel too.  A "parallel universe crashing into them" is how the band describe their progressive approach. "Think The Mandela effect".
The band really pulls from a lot of 1960's psychedelia like The Beatles, Pink Floyd and David Bowie. 'Lonely Child' is their latest track. The gentle cosmic rhythm and chorusy driven bars with,  Pink Floyd like gentle riffs that splay over the top. However, do not be fooled into thinking that 'Electric Blue Yonder' are yanking solely from the funk soul of the 60's. Johnny's vocals scream out Jack White type screechiness and bite; a well-crafted voice that is accompanied by Beth's captivating harmonies. The band display a varied output that refrain from sitting within a sect genre. This is palpable across 'Electric Blue Yonder's' Discography. Songs like 'Thunder Train'  and 'Schtick Shift 'are other great tracks that cultivate their experimentalism with far reaching extenuating harmonies and beautiful instrumentalism throughout. The band's lyrics gleam through with dynamic delivery meandering between the timelessness of their musical structure. Innovative and retrospectively progressive 'Electric Blue Yonder'  create tonal splendours that slide between past and present influences and music genres establishing a distinguishing raw, authentic sound.
LISTEN TO  'LONELY CHILD' NOW  👉📻
'Electric Blue Yonder' are interesting folk fused with creative aura. We can't wait to hear what their future releases will  bring!
We got in touch with them and asked them some questions. Their answers are interesting and captivating  and expose their character and quirkiness. A great look into who they are and what they are about.
Enjoy the interview questionnaire below:
You have a very interesting name " Electric Blue Yonder". Who chose it and what is the meaning behind it? Could you tell us a little about the band and how you formed?
"When Beth and Johnny started performing some of the earlier songs they chose "Blue Yonder" as the band name because of the flight history of Montgomery. It's a nod to the Wright Brother's first civil aviation school and the long military flight history, and their soaring harmonies. Johnny had studied older finger style playing and many of their early works carry a nostalgic folk timelessness. The "Electric" came into play when our parallel universe crashed into this with this one and we merged. (Think "Mandela Effect") The result is an injection of the 60's psychedelia and surf with a transdimensional vibe. We first appeared as Electric Blue Yonder at Saw's Juke Joint, in the spring of 2018 for the taping of an episode of the Zimmern List."
Where do the bands influences come from? 
"The world around us. We definitely dig the vintage era of music. Pink Floyd's prog emotive soundscapes, The Beatles & Beach Boys' harmonies, Crosby Stills & Nash's song writing. Johnny also grew up listing to Classical music every night, and Beth is a long time French horn player, which lend to the Baroque instrumentations albeit with an E.L.O. like twist. Beth Definitely dug into the indie scene in her college days with Beach house and Arcade Fires while Johnny flirted with the Jam & psych scene with groups like Medeski Martin and Wood and The Flaming Lips. Every member of the band has a diverse musical background and taste. I think that helps us craft music that is more interesting. It has depth and layers created from all these influences."
How long have you been together and playing gigs? 
"Blue Yonder started performing its own material in 2015, and the band has evolved with several line ups over the years. The name "Electric" came in 2018 and also opened us up to collaborate with more outside artists in a 'collective' type perspective."
Your latest track "Lonely Child" has a country blues feel to it, would you agree? What's the song about?
"The song dwells in nostalgic tones with a yearning for what used to be with the realization that things will never be the way they were. Just like the old farmhouse in the video, change is inevitable. As the relics of our past crumble and fall, we seek a new identity in the world we build around us."
What's the best gig you have ever played and why? 
"That'd have to be Coast is Clear down in Key West December 2019. We love the artist community down there, and we got to play with a couple heroes like RayLand Baxter and SUSTO. We were treated very kindly, the vibes were so low key and chill, and we met some really talented musicians that we look up to in terms of career and placement. Not to mention a late night of Karaoke with all the kewl kids."
Who would you love to collaborate with in the future and why? 
"We've really adopted an open door policy when it comes to collaboration. I've found that any musical idea I may have can grow into something beyond my imagination when other talented musicians get involved. Dr. Dog has been a long time favourite of mine. I love the way they build their songs. Especially the harmonies, and the nostalgic touch. "Fate" is loaded with great stuff. Also if Brian Wilson, Wayne Coyne, Roger Waters, or Neil Young came calling I'd stop what i was doing and come running."
What artists/bands are you guys listening to right now?
"RayLand Baxter, Susto, BB Palmer, Early James, Rob Aldridge, Brittany Howard, Kaydee Mulvehill, Zach Austin, are some of the newer folks, and of course there are always classics like Fleetwood Mac, Dylan, Queen, E.L.O, this list could go on and on."
Where do you want the band to be in 5 years? 
"We'd like to get another 2 albums out, tour Europe, and start to dig into multimedia projects. I really think that's where the future of music is headed. Visual Albums, and eventually Interactive Albums."
What gig are you looking forward to playing next and why? 
"We love them all. Gigging is still a bit weird. Any chance to share our hearts and music with an audience is a gift. That said, in all the cancellations of 2020 one show, opening for SUSTO at Saturn in Birmingham has been postponed a couple times but still on the books. We respect the venue and look forward playing with a talented friend in such a great spot."
Dan Auerbach or Jack White?🤔
Which of these legends would you have loved to have played with?
---