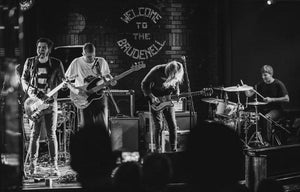 Cowgirl
Cowgirl are a band that portray classic sounds of Garage Indie-Rock of which they do pretty damn well! No laser sounds, pre-programmed beats or ethereal reverb. Just sexy, raw music from a band that are seeping into the music scene with attitude and flavour.
Sam Coates (vocals/guitar), Danny Trew Barton (vocals/ guitar), Jack Holdstock (drums) & Tom Robinson (bass)
The band from York have been flirting with ideas and playing music together for over 10 years which is no surprise, the record is testament to sharp musicianship.
Hey, could you tell us a little about the band, and how you started?
 "We've all being playing music together in one form or another for over 10 years. There were some early conceptual ideas of how we wanted Cowgirl to sound but it was all abandoned fairly quickly when Jack & Tom came into the fold. Things just seemed to come together organically and we've been trying not to overthink things since then."
Cowgirl have just released their new studio album of the same name delivering raw, authentic tracks that buoyance a level of anticipation from the start of the record that is satisfying throughout. It's like they have been around for years solidifying their discography with their tenth album. The band connection is tight with Jack's drums driving the tracks along profusely. The guitars create some compelling riffs, fills, solos and rhythmic melodies. The band extenuate an abrasiveness and play with real intent from the get go.
The first track 'Better with you' is a perfect introduction that showcases the vigour of the band. It starts with an encouraging drum introduction that is followed by an overdriven guitar riff and the bass punching out big and bold. The vocals slide in holding that tightness that all of the tracks on the record can be attributed to. The collective sound is so garage-indie infused with punky riffs and distressed guitar tones that, it is reminding of bands like The Strokes. You can hear influences like 'The Velvet Underground' seeping throughout the record. 'Cowgirl' recorded the album cementing the 7 songs in a modest few days, in London at Euan Hinshelwood's ('Young Husband') studio. The first album from 'Cowgirl' stands high and mighty within todays frenzy of new and upcoming bands on the block. They have fell into a genre that has been a long time coming and overdue. 
How long did it take you to create the new record and who writes the lyrics?
"Myself (Sam) & Danny split the songwriting/ singing so both of us write the lyrics. We've always got a backlog of songs but the writing of this album was mostly informed by the studio we were working in. We recorded it with Euan Hinshelwood at his studio in London and I think the environment made us write in a different way to usual. In terms of time frame, the recording was a handful of days; we never take too long."
 What are the bands influences?
 "A lot of different things. Some of which are probably noticeable and some probably not. Wilco, Teenage Fanclub, Neil Young, Grandaddy, Big Star, Velvet Underground, Jesus and Mary Chain etc etc"
What is your creative process like?
"Myself or Danny will write and demo a song. We'll then take it to the rest of the band and it'll get hammered into shape. Jack & Tom will suggest some ideas and we'll bounce off each other until we've got a song. It's usually pretty painless. You know pretty quickly what works and what doesn't. Try not to force anything"
Are you all from York? What's it like growing up their, finding your feet as a band and entering into the music scene?
 "We're all from York although Jack & Tom live in Manchester & Leeds. We've all being playing in bands since our early teens and have always found the York music scene to be pretty fertile ground for making music. There's a decent network of bands and promoters that are in it for the right reasons. So if you stick with those guys you'll have a load of fun"
What music and Artists are you listening to right now?
 "Over the last week or so- John Lurie/ Lounge Lizards, Dirty Three, Tim Buckley & Fred Neil."
Who would you like to collaborate with in the future?
 "Fatboy Slim or Mark Ronson"
Where do you want to be in 5 years from now?
 "Sat on a pile of money snorting caviar off Fabergé egg"
Which one of these legends would you have loved to have worked with in their prime?
Bob dylan
Curt Cobain         
"Jimi Hendrix"           
Chuck Berry
Muddy Waters
Do you guys have particular tastes in musical equipment? What guitars, amps and drums do you guys use?
 "Jack likes cymbals. I play a tele through a Laney AC30. Danny plays a couple of different guitars through a Vox AC30 & a Blues Jr. We have the usual array of pedals"
LISTEN TO COWGIRL NOW 👉📻
*All photos and media were provided and consented by Cowgirl 
LEARN MORE ABOUT COWGIRL 
---