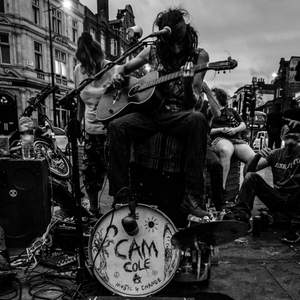 Cam Cole
The creative and dynamic 'new age traveller' Cam Cole; the one man band sensation, on his new second studio album 'Crooked Hill'.
The record was shaped and recorded at The premises studio A in London and, produced and mixed by Markus Stretz.
Cam Cole sets himself apart from others in the industry today having, a uniqueness and charisma that is quite rare to come by. If you haven't heard or seen Cam at work then nip over to his social media and you will instantly see some of his amazing performances.
The new album is heavy and churns out bold, punchy guitar riffs with smashing drums that create a myriad of explosive sound. You would think you're listening to a full on band however, Cam Cole is a master one man bander that so expertly digresses the output of the drums with his feet banging away, all the whilst playing guitar and belting out vocals at the same time. The guitar is drop tuned usually to 'B' with 5 heavy gauge strings which, is quite a rare tuning and often used in Heavy Metal but, this is what allows Cam to depict a darker more heavier sound.
The slide guitar mixed with the pounding of the drums and distorted vocals are distinguishingly aggressive and the overall output is rather immense. Cam has previously talked through his rig on YouTube and has stated he uses a Shure 'Green Bullet' Microphone with a distorted amp to get that aggressive vocal tone effect. The 'Green Bullet' microphone he uses is a classic harmonica blues mic that can be dated way back to 1949. It is famed for its mid-range punch and it has a defying ability to cut through music like a knife. Cam's sound is based on this very tonal plethora; cut throat, piercing, bellow, screech and distortion illuminate from his guitar, slides, foot drums and vocals. His drums are designed and built by 'Farmer Drums' a great shop that create awesome instruments for multi-tasking musicians.
There is no surprise that Cam started playing guitar at 7 years old he certainly knows his way around a guitar. After living the trendy lifestyle in the London band scene he moved fully into his van and became a "New age traveller" as he puts it. This enabled him to chase his musical dream and reach out to the masses which he has done over the last 2 years. Cam Cole came to fruition through his live busking performances and has since been posting consistently on social media. His genuinity and grounded approach to life ripples from the aura of him, his music and the atmosphere he amplifies.
His music is something of a reminder of classic music history like the blues of the Stones or the grunginess of Nirvana and the distortedness of RATM. Think Folk, Delta Blues, Rock 'n' Roll, Grunge and Cam Cole is stretched somewhere omongst that spectrum. A strong innovative and creative spirit seeps  from the atmosphere that Cam exposes creating entertainment value that is exceptional. A well-crafted musical journey that is astounding to watch live. Watch below at the amazing video of Cam playing the first track on the new album 'Albion' in one of his 'Sounds from the Van' sessions. The first bar in the song has his signature Distorted, choppy and muted guitar followed by the bluesy, retro-frequency 'Green Bulleted' vocals. The track rides on with crashing cymbals, bass drum beating and snare trap snagging. 'Albion' mixes with mid track stops and floats between fast and slow paced tempo.
Cam's music pulls from many genres and influences. You get a real Zepplin vibe on the 6th track on 'Crooked Hill' 'Now That We're Here'  it has a 'Stairway To Heaven' feel to it. Cam's mid-range vocals with slow induced guitar riffs and nice slide lacing back and forth prelude a mellowness pertaining to the importance and meaning of the track. The song is about how the human race must behave and come together 'now that we're here' and that we must have strength to carry on and appease towards true eternal peace. The lyrics are well suited to the feeling and tempo of the song and ascertain a more slow ambience than some of the other tracks on the record. 
Crooked Hill Artwork by Jose Palmer 
 All photos supplied by Cam Cole
LISTEN TO 'CROOKED HILL' NOW 👉📻
We got in touch with Cam Cole and asked some questions about him and his music, from when he started playing guitar to how his creative process involves getting high and following his jam until it becomes a song. Check the interview below:
Hi, could you tell us a little bit about who you are and how you started out as an artist? Have you always been into music and played guitar? 
"I'm a New Age traveller and have been on the road for nearly 10 years. My pursuit to becoming a professional musician started before living on the road, I tried living the trendy musician band scene in London after giving it up to live on the road and busk for a living. And yeah I've always been into music, I've played guitar since I was 7."
The way you play the kick drum and cymbals all with your feet as well as playing guitar is cool as hell! When did that come about? Did you create the drums yourself?
"I didn't create the drums no, it's by farmer foot drums, great one man band instrument check them out! And thanks, it's something that developed over years of one man banding"
Where do your influences come from? What music and artists did you listen too growing up? 
"Led zep, nirvana, kyuss, I like blues grunge folk metal and stoner rock, those are the genres that I listen for inspiration as a one man band"
How do you write songs? What is your creative process like?
"I get stoned and jam riffs. When a good one comes out I follow it and polish it until it's a song."
You do a lot of concert/videos in the van that we see a lot of (awesome van by the way) how did the van start and is this your current living space? 
"Yeah it's been my home for 4 years now, I've been in other wagons before this one and I guess it started when I realised the only way I could do what I loved was if I sacrificed paying rent in a house or flat. Over the years I've upgraded the van, and made it nice etc."
What's the best gig you have ever played and why?
"Summer Solstice at Avebury on the ridgeway. Massive new age pagan hippy rave gathering. I got my 2k rig out and linked it to my mates rig, we put on a mini festival, was sick, when I played there was a great crowd spandangled crustys, so much fun entertaining them."
Who would you love to collaborate with and why?
"Dunno, I could list a few idols but until I've met them for real and know them well enough I don't wanna collaborate with them."
When and where is  your next gig?
"Nottingham, first gig of my tour"
What artists/ bands are you listening to right now? 
"Nat Myers, monolinth, firebreather"
Where do you see yourself in 5 years? Where do you want to be? 
"By then tbh I wanna get a band going, I have some ideas for some cool projects"
Last one. Promise.. You play a lot of slide and loud type gravelly licks, do you have a favourite tuning that you like to play in or does it vary? 
"Yeah it's mainly in open B with 5 heavy gauge strings."
**Cam Cole's next Gig and start of his tour is September 1st 2021 in Nottingham at The Bodega. Grab yourself some tickets now: 👉📻
'CROOKED HILL' TRACKLIST

1. Albion

2. Commercial People

3. Steam

4. I Don't Need To Live Your Way

5. High

6. Now That We're Here

7. Fear N' Wrath

8. Awareness

9. Heavy

10. Regret

11. Message In The Mountains

12. F### You Motherf#####
LISTEN TO MORE FROM CAM COLE👉📻 
Find out more about Cam Cole, his Tour dates and more:
---