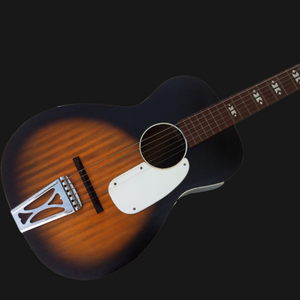 Stella Guitars
Stella were a guitar brand that was founded back in 1899 by The Oscar Schmidt Company who also sold other brands of stringed instruments – Sovereign and La Scala.
Stella guitars were considered low to mid-level instruments, known for their good tone and affordable price. They were made in New Jersey where the company thrived in the first quarter of the 20th century. Oscar Schmidt was said to be the largest manufacturer of stringed instruments at one time but, fell short after the great depression in the 1930's. Oscar Schmidt sold the fretted instrument division to the Harmony Company who went on to produce student grade Stella instruments.
The Stella Factory in New Jersey, Jersey City, 1910
Some of the most influential musicians played these beautiful guitars. Stella guitars can be thought of as 'the roots of blues guitar'. Early Blues players, used Stella guitars because they were cheap and well-built to meet the rigours of being on the road. For these Blues players, the Stella guitar was a cheap and well-built alternative to more expensive brands like Gibson and Martin. However, these blues players tended to move to a Gibson or Martin once they were more established and had enough cash to afford one.
The blues tone from Stella guitars is something special and really has that early Delta Blues era to attain itself to. Some notable players are Robert Johnson (King of the Delta Blues), Doc Watson, Willie Nelson and Kurt Cobain. Cobain owned a Stella Harmony that can be heard on the recording of 'Polly' from Nirvana's 'Nevermind'. Cobain used a 12 String 'Stella Harmony' and it is was once suggested to Cobain that the guitar he used in the song sounded out of tune and he replied "That's a 20-dollar junk shop Stella, I didn't bother changing the strings, It barely stays in tune. In fact I have to use duct tape to hold the tuning keys in place."
Probably the most notable player is Robert Johnson.The American musician Robert Johnson was an extremely influential Delta blues guitarist. He displayed a combination of discernment and skill that has had an enormous impact on later generations. His music is known for its liveliness, intensity, and technical mastery.
He has been covered and interpreted by so many other artists and his style has influenced those who have come after him. 'Crossroads', 'Love in Vain', ' Travelin Riverside Blues'  to name a few. These songs and more have been covered by other artists so many times, and his style is an influence to artists like Bob Dylan, Eric Clapton, Keith Richards, Robert Plant, John Mayer, and many more.
---