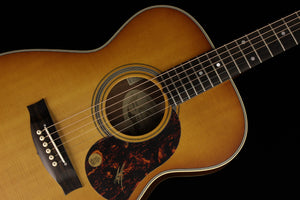 Maton EGB808 Series
Maton guitars are incredible handmade guitars crafted in Australia.
Maton were a project of a small backyard workshop back in 1946 that has grown into a beautiful success story. Maton still today remains a fully family business run operation and employ around 70 people.
These fine guitars are crafted to perfection by Maton's Luthiers, with attention to detail being an important factor. Each guitar is unique and has its own character and being fully handmade they bare the initials of each craftsman and the part they created on the inner side of the guitar. Each guitar draws from the experience, knowledge, and dedication of the Maton team and results in a remarkable instrument.
Maton specialises in quality crafted guitars made from timbers such as Blackwood, Bunya, Queensland Maple, Queensland Walnut and Satin Box.
The Maton EGB808 series is a powerful acoustic guitar and utilises the amazing AP5 Pro pick-up. This pick-up is renowned for its big sound and quality components. The AP5 pick-up has been highly regarded for over a decade as one of the best acoustic pick-ups you can buy. The pre amp is mounted on the top side of the guitar making it easy to get your hands on when in need of a tweak. The  delivered sound from the AP5 pro is clean and versatile. A pick-up that is easy to use and can accompany any music genre.
There are some extraordinary guitarists that are famed for using the Maton guitars like Joe Robinson, Tommy Emmanuel, Josh Homme and Tash Sultana. Watch below at some of the beautiful guitar from Tommy Emmanuel using his 'Maton EGB808TE/C' and Joe Robinson using his 'Maton EGB808C J. R Signature' model.
Have a look at buying a Maton EBG series here 👉📻
Here are a list of guitar players that use Maton as their weapon of choice:
Joe Robinson 
Tommy Emmanuel 
Josh Homme
Tash Sultana
Eric Johnson 
John Butler
Paul Kelly
Colin Hay
Neil Finn
Keith Urban
The Pierce Brother's
Luka Bloom
Adam Brand
Jim Adkins
Click this link to learn more about these artists👉📻
---