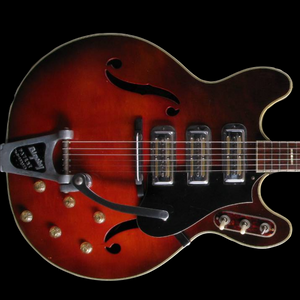 Guitar Of The Week #Harmony H78
The Harmony H78 is a full hollow body arch top guitar that was similar to the popular Rocket series from Harmony and were also distributed under other brand names including Airline, Regal and Silvertone in the 1960s.
These guitars were Harmony's "top of the line" guitar that seemed to have taken some prompts from the Gibson Switchmaster. It's a classic guitar that can be seen played from some incredible artists from The Beatles to Dan Auerbach. The 60s rock and roll tone and the killer hollow body look just make this guitar a real gem.

Many people felt that these guitars were replicas of more expensive guitars like Gibson and Gretsch, but they tend to have a very unique tone. The H78 is great for those who use over-driven amps or fuzz boxes. A lot of what we consider the origins of rock and roll came from these guitars. Dan Auerbach's sound is well attributed to the Harmony H78 tending to veer towards the fuzzy, driven hollow body sounds the H78 produces. Watch this live performance on SiriusXMU of Dan Auerbach using his Harmony H78.
From the 1966 catalog:
"Harmony's Finest Electric Guitars – with maximum electronics
Three pickup DeArmond designed for Today's Sound"
---