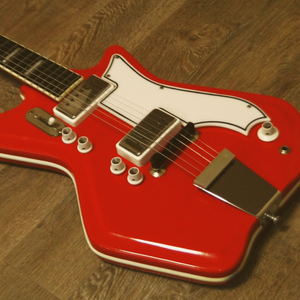 1964 JB Hutto Montgomery Ward Airline
This weeks #Guitar of the Week is the amazing '1964 JB Hutto Montgomery Ward Airline'
These guitars were made between 1958-1968 by Valco and sold through Montgomery ward. Valco made guitar amplifiers between 1940 and 1968 but commercialised electric and acoustic guitars through subsidiary companies. They also made Supro, Gretsch and Kay guitars and merged with Kay guitars before the company folded a year later. The guitar that is synonymous today for it's use by Jack White, the 1964 JB Hutto Montgomery Ward Airline was named after legendary bluesman JB Hutto. Joseph Benjamin Hutto (JB) Hutto was an American blues musician that was known for his guitar slide playing and dramatic singing.
Jack White has always been in possession of some rare and great guitars and this one is up there! The beautiful red and white body made from  'Res O Glass' a type of fibreglass that is very sought after. Jack White has had many variations of the guitar over the years. 
Eastwood guitars currently sell new and upgraded versions of this guitar. The 'Airline 59 2P' is a great example of a guitar that will get you that Jack White tone with, a few modifications like the mahogany body upgrade for lasting quality. However, this mod still maintains the famous resonant tones that the JB Hutto Airline produces. If you want dirty garage blues rock n roll with modern playability and classic retro design then, The 'Airline 59 2P' is for you.  Many guitarists over the years have had the JB hutto/Airline as their choice of weapon such as, David Bowie, PJ Harvey, Calexico and of course Jack White and JB Hutto to who this is attributed. This guitar is beautiful and just looking at it makes you want to grab it from the screen and play it!
If you want Valco 50's/60's style and Jack White tone then go grab yourself one now from 👉 Eastwood guitars!   
Or even better check these vintage guitars out from Guitar Center  👈👇
---