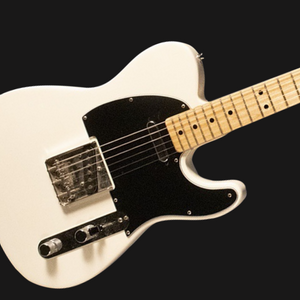 #GotW - Fender Telecaster
This weeks #GOTW is the Fender Telecaster. The Fender Telecaster is a versatile guitar with it's tight attack and quick response making these guitars renowned for attracting modern guitarists.
The first one rolled off the production line way back in 1950 and still today, 61 years later, it remains an icon of rock 'n' roll. The first produced Telecaster's were actually named 'Broadcaster' but, due to a trademark conflict with the well-known guitar brand 'Gretsch' and their 'Broadkaster' model they changed its name. For more on the history of Fender and it's iconic guitars check out the Fender Telecaster and Stratocaster: The Story of the World's Most Iconic Guitars.
The 'Tele' as it is so widely known is one of the most famous guitars ever made. Since its first incarnation in 1950 it has been in continuous production in one form or another. It was the worlds first successful commercially mass produced solid body electric guitar. This means that you will always be able to find a new or used model at reasonable prices.
Over the years, there have been many versions of the Telecaster. From numerous pickup configurations, to various body shapes and sizes. The Telecaster has undergone many changes since its birth in 1950.
The original, single-coil pickup Tele was an instant hit when it was introduced in the early '50s. But as the years rolled by, players wanted a more modern sound. Fender answered their prayers in '72 with a production model featuring an innovative humbucking neck pickup. It was the biggest change to the Telecaster in it's history and has since been a favourite worldwide. Humbucker pick-ups specifically 'PAF' were designed by Seth Lover and were famously introduced on Gibson Les Paul guitars.
This Humbucker style Tele has been exhibited over the years and the most notable was the special edition "50th Anniversary" Telecaster in 1996 modelled after the classic instrument from '72'. It features a hardtail bridge and several other distinct touches that make it ideal for modern players seeking a vintage sound. The more recently upgraded 'Fender Vintera' Telecaster '70's Edition' are great new classics for players that want the style and sound of Fenders golden era. Get a Fender Vintera '70s Telecaster Deluxe now.
There are so many notable players that can be associated with the 'Tele' but here are 22 that we love and think you should know and check out.
Jimmy Page
James Burton
Eric Clapton
Jeff Beck
Keith Richards
George Harrison
Alex Turner
Tash Sultana
Pete Townsend
Albert Lee
Jeff Buckley
Bob Dylan
Dave Gilmour
PJ Harvey
Jimi Hendrix
Johnny Marr
Paul McCartney
Tom Morello
Buck Owens
Arlen Roth
Bruce Springsteen
Joe Strummer
---